Whisky Catalog by Alternative Whisky Academy
This is a whisky catalog with information about the different types of Whisky, Whiskey and Bourbon, sorted by contry.
If you want to buy whisky please check this page to find a whisky shop -> http://www.awa.dk/whisky/wshops/index.htm
Sorry but have an estimated +5000 pages to convert and only +1000 reached ... (Working hard to update all pages).
AWA - Alternative Whisky Academy is a private, none-commercial, no-profit, none-selling whisky society. (Private owner for private usage.) 
We do NOT sell whisky or anything else.
TOBERMORY.  (Ledaig)
---
Location :
Island Mull, Highlands.
Country :
Scotch
Type : 
Highland Malt
Distillery : 
Producer : Burn Stewart.
Founded :
1798
Reopned in 1990. It was acquired by Burn Stewart in 1993.
Words from Michael Jackson :
If the art of distillation was brought form Ireland over the Giants Causeway, it must have arrived on
Mull. The island's distillery traces its history to 1798, but it has operated only sporadically. In 1990, it reopened after a decade's silence, and later began to welcome visitors. It was acquired by Burn Stewart in 1993, Over the years, it has continued to market a product called Tobermory, The Malt Scotch Whisky. This is a vatted malt, containing some Tobermory whiskies of up to 20 years old and proportions of younger whiskies front elsewhere. It has also marketed a blended Scotch, clearly identified, on the label.
The distillery, in the town of Tobermory, was in the past known as Ledaig. Single malt whisky from the distiller): has been bottled under that name by several independents. The Ledaig bottlings have a distinct island character. How strongly the island character will survive in the future is open to question. The water used by the distillery is very peaty, but the malt now being employed is unpeated. The new owners want to sell their new make for blending and they feel there
is little demand in that department for heavily peated whiskies.
House style Faint peat, minty, sweet. Restorative.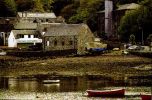 -
Source www.bbr.com :

Tobermory Distillery, Isle of Mull

Tobermory can trace its history back to 1798 and is now the only operating distillery on the Hebridean Island of Mull. Two whiskies are produced; Tobermory, which is a vatted malt and the single malt Ledaig.
Ledaig, unlike Tobermory, is distilled from heavily peated malted barley. During the malting process, burning peat is used to dry the barley in a kiln. The reek from the burning peat is absorbed by the barley through the husk of the grain, and the reek remains through the mashing, fermentation and distillation processes, eventually leading to a superior single malt with a highly distinctive peaty, smoky taste. That malt is Ledaig, a superb, intricate Island Malt Scotch Whisky