Whisky Catalog by Alternative Whisky Academy
This is a whisky catalog with information about the different types of Whisky, Whiskey and Bourbon, sorted by contry.
If you want to buy whisky please check this page to find a whisky shop -> http://www.awa.dk/whisky/wshops/index.htm
Sorry but have an estimated +5000 pages to convert and only +1000 reached ... (Working hard to update all pages).
AWA - Alternative Whisky Academy is a private, none-commercial, no-profit, none-selling whisky society. (Private owner for private usage.) 
We do NOT sell whisky or anything else.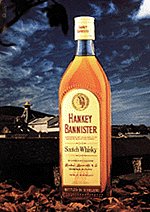 ---
HANKEY BANNISTER
---
Remark :
Hankey Bannister review and remarks :
From the book : Classic Blended Scotch by Jim Murray
Henkey Bannister. The name may, like another blend the Baillie Nicol Jarvie, sound whimsical and far-fetched but in fact the brand is titled after a wine and spirit merchant which established itself in the elite West End of London dureing the middle of the 18th century.
They entered into blending during the boom years of the 1890s and were taken over in 1932 by Saccone & Speed, who had also made their fortune serving the forces, firstly as two separate companies working out of Gibraltar.
In 1988 Inver House added the brand to their impressive portfolio of blends by buying it from IDV.
About the Hankey Bannister Blend.:
Another Islay-free Inver House blend with something around 30 per cent malt profile. The whiskies used are around four and five years old with the whiskies very similar in style to Catto's, except perhaps with more Speyside evidence.
Here, though, North British grain is found in equal measure with Cameronbridge and the heavier Port Dundas which both flatten things a little.
(Se Jim Murray tasting notes below.)

From the Inverhouse web site:
Hankey Bannister is a superlative blended whisky with a long and distinguished history.
It has been supplied for many years to an exclusive clientele who appreciate its fine mellow character and excellence. Established in 1757, Hankey Bannister & Co. enjoyed close links with royalty and peerage.
The Partnership
Formed in 1757 the Hankey Bannister Partnership quickly developed a reputation as suppliers of the finest wines and spirits. Hankey Bannister Scotch Whisky has enjoyed close links with royalty and the peerage. The company held several Royal Warrants from 1908 to 1970. This superlative blended whisky became the exclusive Scotch Whisky for the British Armed and Diplomatic forces. Indeed, Hankey Bannister & Co maintained an elevated position in Downing Street as suppliers to the famous wartime Prime Minister, Sir Winston Churchill. Hankey Bannister maintains its pre-eminence today as one of the finest blended Scotch Whiskies.
Hankey Bannister is a marriage of the finest malt whiskies from the Highland and Speyside regions complemented by select Lowland grain whiskies. The resulting blend is rich and aromatic to the nose, exceptionally smooth and mellow with a lasting aftertaste.
Location :
Scotland, Edinburgh
Region :
?
Country :
Scotland
Type :
Blended and Deluxe Blend
Distillery : 
?
Founded :
1757
Owner :
Inverhouse
Producer :
?
Water :
?
Notes :
Jim Murray Notes:
Nose : All revolves around a buzzy spiciness which gives an otherwise light aroma extra depth.
Taste : Rmarkably clean and toffee sweet. The entire middle consists of old-fashioned cream toffee and subtle malt.

Finish : Medium length and becomes increasingly sweet as more vanilla arrives. Comments : A subtley lightweight dram with excellent toffee carried on the grain, mixing some enlivening spices.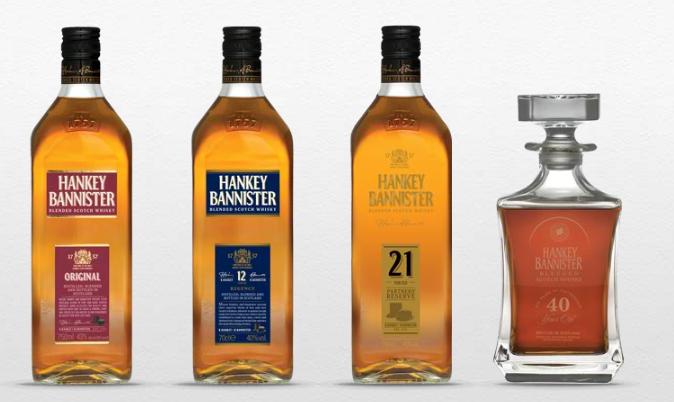 -
Source www.bbr.com :

Hankey Bannister Blended Scots

Hankey Bannister is a blended whisky company founded in 1757 by Messrs. Beaumont Hankey and Hugh Bannister.
Their whiskies are produced with around 30% non-Islay malts, and are drawn from the distilleries of Pulteney, Balblair, Knockdhu, Speyburn and Balmenach.
Hankey Bannister 40 yo was voted the 'World's Best Scotch Blended Whisky' at the 2008 World Whisky Awards. Hankey Bannister whiskies were also allegedly the blend of choice for Winston Churchill.
Manufacturer:
Hankey Bannister
Results 1 - 1 of 1

Hankey Bannister