Whisky Catalog by Alternative Whisky Academy
This is a whisky catalog with information about the different types of Whisky, Whiskey and Bourbon, sorted by contry.
If you want to buy whisky please check this page to find a whisky shop -> http://www.awa.dk/whisky/wshops/index.htm
Sorry but have an estimated +5000 pages to convert and only +1000 reached ... (Working hard to update all pages).
AWA - Alternative Whisky Academy is a private, none-commercial, no-profit, none-selling whisky society. (Private owner for private usage.) 
We do NOT sell whisky or anything else.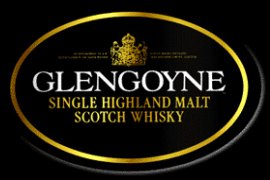 ---
---
Location :
Dumgoyne, Stirlingshire - Tayside Region. Highland (SouthWest) 
Ligger dog på grænsen mellem Highland og Lowland, men betragtes som South Highland.
Country :
Scotch
Type : 
Single Highland Malt. (Southwest.)
Distillery : 
Distilled matured & bottled by Lang Brothers ltd.
Glengoyne, Dumgoyne, Stirlingshire
Phone 041 242 5300 (Visitors' centre)
Water :
Vandet tappes fra Campsie Fells.
Remark : 

Glengoyne :

From the label.: The old 'Glen guin' 
In the quiet, secuded glen beneath teh Hill of Dumgoyne, Glengoyne Distillery, captures the essence of the soft air  and the cool Glengoyne burn water that flows into Loch   Lomond to craft thos unpeated malt Scotch whisky.
Slogan :
The unpeated Malt, from the Southern Highlands.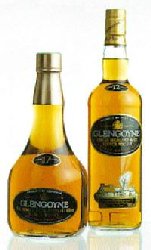 ---
-
Source www.bbr.com :

Glengoyne Distillery, Highlands

Highland Single Malt Whisky has been produced at the Glengoyne distillery since 1833. The distillery takes its name from 'Glen Guin' or Glen of the Wild Geese, a glen which during the 18th century boasted 18 illicit whisky stills.
Glengoyne Distillery lies close to Loch Lomond, at the edge of the Campsie Fells. It is situated beneath the Dumgoyne Hill from which soft spring water flows from a waterfall almost straight into the distillery.
Geographically, the distillery lies on the Highland line which divides the Highland and Lowland regions of malt whisky production. As a result of the mild climate and the soft water, the style of the Glengoyne Single Malts tends to be almost Lowland in character.
This style is enhanced by the fact that no pungent peat is used at any stage of the Glengoyne distillation process. The result is a pure, engaging single malt whisky in which all the delicate apple and sherry flavours are allowed to express themselves.
Glengoyne Single Malt forms the basis of the Langs Blended Scotch Whisky.