Whisky Catalog by Alternative Whisky Academy
This is a whisky catalog with information about the different types of Whisky, Whiskey and Bourbon, sorted by contry.
If you want to buy whisky please check this page to find a whisky shop -> http://www.awa.dk/whisky/wshops/index.htm
Sorry but have an estimated +5000 pages to convert and only +1000 reached ... (Working hard to update all pages).
AWA - Alternative Whisky Academy is a private, none-commercial, no-profit, none-selling whisky society. (Private owner for private usage.) 
We do NOT sell whisky or anything else.
Deanston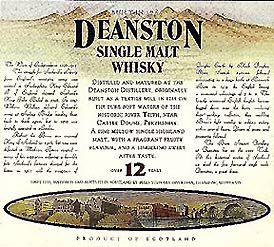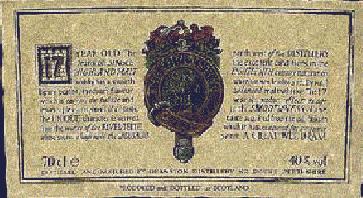 ---
DEANSTON.
---
Location :
Doune, Perthshire. Taiside Region.
Country :
Scotland
Type :
Single Malt, Highland Southern
Distillery :
Deanston Distillery
Doune, Perthshire FK16 6AG
Phone : 01786-841422
Fax : 01786-841439
Manager : Ian Macmillian
Visitors : Trade visitors only
Owner :
Invergordon Distillers Ltd. (Founded by Brodie Hepburn)
Latest info says : Burn Stewart Distillers plc.
Founded :
Mill from 1785 - Still build in 1965-6 by Mr. Brodie Hepburn and Mr. James Finley % Co. on the site of a cotton mill est. 1785.
Water :
Trossachs / River Teith.
Remark : 

A bit sweet, best before dinner.
They use American and Spanish oak hogsheads and butts, some fresh sherry butts.
The distillery have 2 wash stills and 2 spirit stills.

-
Source www.bbr.com :

Deanston Distillery, Highlands


This Highlands distillery is located at Doune, southwest of Perth. It is one of the most recently constructed distilleries in Scotland, founded in 1966 during the growth times of the whisky industry. Deanston was actually converted from a cotton mill.

The distillery prospered during the 1970s, but closed during the recession of the mid-1980s. Spurred by the surge in demand in the late 1980s, the blenders Burn Stewart acquired Deanston in 1990 (along with Tobermory in 1993 and Bunnahabhain in 2003) and resumed the production.

A mere 15% of the output at Deaston is bottled as single malt whisky; the rest is reserved for blends like Scottish Leader. The distillery range consists of a 12yo and a 17yo expression, although a few independent bottlings also exist.

 
| | |
| --- | --- |
| Age :  | 12 and 17 Years Old (Also av. from Wm. Cadenhead Ltd. 14 Years Ol - 55,8%) |
| Vol :  | 12 & 17 Y.O = 40% |