Whisky Catalog by Alternative Whisky Academy
This is a whisky catalog with information about the different types of Whisky, Whiskey and Bourbon, sorted by contry.
If you want to buy whisky please check this page to find a whisky shop -> http://www.awa.dk/whisky/wshops/index.htm
Sorry but have an estimated +5000 pages to convert and only +1000 reached ... (Working hard to update all pages).
AWA - Alternative Whisky Academy is a private, none-commercial, no-profit, none-selling whisky society. (Private owner for private usage.) 
We do NOT sell whisky or anything else.
---
GLEN ORD (AKA : GLENORDIE when 12 years old / ORD when young).
---
Location :
Muir of Ord, Inverness, Black Isle, Beauly.
Region :
Northern Highland Region.
Country :
Scotland
Type :
Northern Highland - 'Super' Single 'Pure' Malt.
Distillery : 
Glen Ord Distillery
John Dewar & Sons, Perth, Scotland.
Founded :
1838 by the Mackenzies of Ord.
Owner :
?
Producer :
Produced in Scotland by United  Distillers
Muir of Ord, Ross & Cromarty, IV6 7UJ
Tel: 01463-870421 or
01463-871334?
Water :
Glen Oran and Oran Burn.
Remark :

Glen ord :

It Shines, not burn.

-
Source www.bbr.com :


Glen Ord Distillery, Highlands


Glen Ord is located just three miles north of the once thriving seaport at Beauly, on the East coast of Northern Highlands, a gateway to whisky markets around the world and in close proximity to the fertile fields on the Black Isle (which is actually not an island at all, but a local peninsula that juts out into the Moray Firth). The Black Isle area saw the rise and the demise of several distilleries, of which Glen Ord is today the sole survivor.

Founded in 1838 by Robert Johnstone and Donald McLennan, Glen Ord changed ownership several times, until James Watson, an experienced blender and owner of the Old Pulteney Distillery purchased it in 1896 and start market it as a single malt. The distillery closed during World War-I and was bankrupt in 1923, before John Dewar acquired it and revived its fortunes. It is now part of the Diageo group.

The whisky marketed by the distillery appeared in several different brand names during the last years: Glen Oran, Glen Ordie and Glen Ord.

A mere 10% of the production is marketed as single malt, which are generally regarded to be good value for their quality, and in 2007 the distillery's whisky was chosen for the 'Singleton' range, along with Glendullan and Dufftown malts. The idea of the 'Singleton' range is to provide single malt whiskies for various areas in the world: for example, Glen Ord Singleton is primarily aimed at an Asian market.

 
---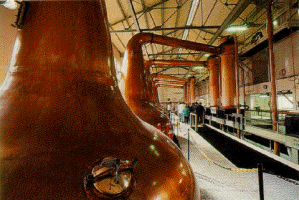 ---
RIP From some other sitez.

An important component of the Dewar's blends, it has impeded its reputation by constantly changing its name. The distillery has variously been identified as Muir of Ord, Glen Ord or simply Ord. In official bottlings the single malt was for a time known as Glenordie. It has now reverted to Glen Ord. Never mind that the distillery is hardly in a glen: no reasonable malt-lover would wish to encourage any further changes of identity.
The distillery is at the village called Muir of Ord, on the neck of the Black Isle, an isthmus between the Moray, Beauly and Cromarty Firths, not far from Inverness. The 'Isle' is noted for the cultivation of barley for malting. There is a maltings with its open-sided peat-barns visible from the road, at the distillery. Muir of Ord was founded in 1838 by the Mackenzies of Ord, close to their meal mill and sharing the Allt Fionnaidh or 'White Burn' nearby for its water supply. It was modernised in 1966 and currently has six stills. It is located on the outskirts of Muir of Ord, off the A832, 25 Km/15 miles west of Inverness and is the sole survivor of no less than nine distilleries present in the area in Victorian times. Thomas Mackenzie, proprietor of the Ord estate was a rarity of the time being an exemplary landlord.
---
Some distance away from the famous Loch Ness, next to the village of Muir of Ord stands the distillery built on the Clan Mackenzie estate in 1938. Since then, the years have passed but passions have remained the same: the same love for a whisky, born of elements as simple as water, barley and peat; the same production methods; the same copper stills hammered out by hand.
Here, the master distiller speaks to you of a whisky as the fruit of an eternal harmony between man and nature. For even if its production may be considered an art form, nothing would have been possible without the natural aid of this rich and fertile land.
Glen Ord demonstrates a powerful character typical of its root. And at the Black Isle, nature vies with talent in the making of a great whisky. Barley is there in abundance, as is peat, which is used to smoke the barley. As for the water source supplying the distillery, it comes from two different but extremely pure sources and it is this subtle combination which gives Glen Ord a smoothness and richness which no other malt can match.
It takes twelve long years at Glen Ord, but the ritual remains unchanged. It is this patient maturation in oak casks which allows it to absorb all its rich flavours. The air, saturated with salty sea-spray and the scent of peat and heather, makes its way between the sections of the barrels and caresses the alcohol throughout its entire maturation, until it have left the fine traces of its imprint. And by the time the whisky is finally fully mature, it has thus acquired a unique flavour, both complex and smooth, each subtle note a reminder of the characteristics of its origin.
---
LINKS..........
to official Glen Ord , Glenordie or Ord or related web pages.
Glen Ord Scotch whisky
Again - A United Distillers site.
Site offering info about Glen Ord, Origins, History and how its made.
Also a Gift shop etc.