Whisky Catalog by Alternative Whisky Academy
This is a whisky catalog with information about the different types of Whisky, Whiskey and Bourbon, sorted by contry.
If you want to buy whisky please check this page to find a whisky shop -> http://www.awa.dk/whisky/wshops/index.htm
Sorry but have an estimated +5000 pages to convert and only +1000 reached ... (Working hard to update all pages).
AWA - Alternative Whisky Academy is a private, none-commercial, no-profit, none-selling whisky society. (Private owner for private usage.) 
We do NOT sell whisky or anything else.
The Glenlivet
Speyside
THE GLENLIVET
---
Location :
Minmore, Banffshire. Grampian Region.
Region :
Highland
Country :
Scotland
Type :
Highland Speyside Malt.
Distillery : 
The Glenlivet Distillery
Ballindalloch, Banffshire AB37 9DB
Scotland
Phone: +44 01542-783220
Fax: +44 01542-783220
(Situated on the slopes of the Braes of Glenlivet, the local hills.) Manager : Jim Cryle

Vistitors' Centre:
Minmore, Banffshire, Located 10 miles north of Tomintoul on the B9008.
(Between Grantown on Spey and Dufftown.) 30 Miles east of Inverness.
Phone : 0(1)542 887471 (01542-783220)
Fax : 0(1)542 783220
Normal opening hours: 10.00 - 16.00 Monday to Saturday. Mid Mar. go end of October.., 10.00-18.00 Mon-Sat and from 12.30 Sunday July-August.
Admission : 2,5 Pnd. (2,- Pnd. voucher redeemable in distillery shop against the purchase of a 70cls. bottle of whisky)
(Visitors per year : 75.000)
Founded :
1824 by George Smith at upper Drummin farm.
Owner :
Pernod Richard (older: Seagram Distillers Ltd.)
Producer :
Seagram / Chivas.
Water :
Josie's Well
Remark :

The Glenlivet.:

To Brian - We wasn't able to mail information to you at : This email address is being protected from spambots. You need JavaScript enabled to view it.
A popular whisky...The Glenlivet Single Malt Scotch Whisky, America's best-selling single malt, was the number one 12-year-old malt whisky worldwide.

Other remarks :
They use ex-bourbon and sherry cask's. The distillery have 4 wash stills and 4 spirit stills.

-
Source www.bbr.com :


Glenlivet Distillery Speyside


The Glenlivet Distillery has been founded by George Smith, while his son John Gordon Smith assisted and succeeded him has a long-established reputation for making subtle, elegant and flowery Malt Whisky.

This famous Speyside distillery by the glen of Livet, which flows in to the mighty river Spey, was the first licensed operation in Scotland when the legal production of whisky was first introduced in 1823.

The company remained independent until 1935, merged with Glen Grant in 1952 and was acquired by Seagram in 1977, which was eventually succeeded by the Pernod-Ricard group in 2001.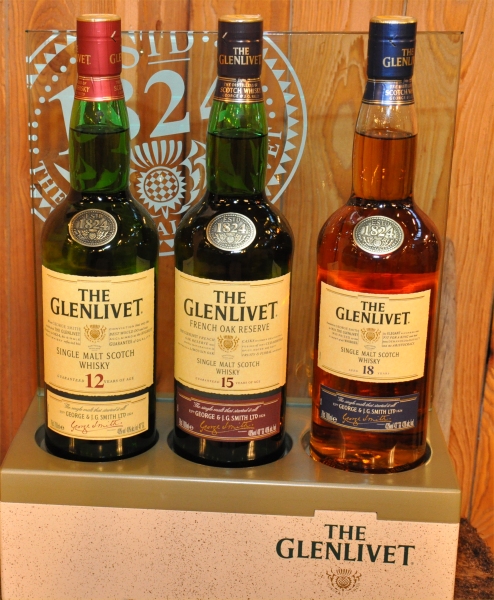 LINKS..........
to official Glenlivet or related web pages.
The Seagram Company Limited.
GLENLIVET, The
The Glenlivet Distillery
Ballindalloch, Banffshire AB37 9DB
Phone: +44 01542-783220
Fax: +44 01542-783220
Other places to get more information.:
Tourist Information Centre
Elgin Phone: 01343 542666
Aviemore Phone: 01479 810363
 
Pernod Richard. ?
Manufacturer:
Glenlivet Distillery
Results 1 - 1 of 1

The Glenlivet