Whisky Catalog by Alternative Whisky Academy
This is a whisky catalog with information about the different types of Whisky, Whiskey and Bourbon, sorted by contry.
If you want to buy whisky please check this page to find a whisky shop -> http://www.awa.dk/whisky/wshops/index.htm
Sorry but have an estimated +5000 pages to convert and only +1000 reached ... (Working hard to update all pages).
AWA - Alternative Whisky Academy is a private, none-commercial, no-profit, none-selling whisky society. (Private owner for private usage.) 
We do NOT sell whisky or anything else.

---
GLENTURRET
---
Location :
Crieff, Perthshire, Highland.
Region :
Highland
Country :
Scotland
Type :
Malt
Distillery: 
The GLENTURRET
Glenturret Distillery
The Hosh, Crieff, Perthshire PH7 4HA
Phone: +44 01764-656565
Fax: +44 01764-654366

Scotland's oldest malt whisky distillery which has now been transformed into a prime tourist attraction and conference centre. The website includes competitions, streaming videos and an online shop. There is also detailed information on the visitor facilities, the conference centre and of course, the range of malt whiskies available.
Founded :
Established in 1775, but dates back to 1717
Owner :
Cointreau SA.
Producer: 
?
Water :
Turret
Remark :

Glenturret :

One of the oldest stills in Scotland.

-
Source www.bbr.com :

 

Glenturret Distillery, Highlands


On the banks of the River Turret, near Crieff in Perthshire lies Glenturret, tucked away in a steep valley between fields and tree-covered hillsides, an ideal hide out in the days of illegal distilling.

It is also a claimant to being the oldest distillery in Scotland. There are records of a distillery in the neighbourhood at least as early as 1717, and some of the buildings on the present site date from 1775. The distillery itself was dismantled in the 1920s, then revived in 1959. Glenturret is one of the smallest distilleries of Scotland, yet one of the most visited.

In November 1999, the Highland Distillers group was acquired by the Edrington Group.Today it retains its rusticity while also being a tourist attraction.

About 70% of the production is marketed as single malt, the remaining part being used in the blending of The Famous Grouse range of whiskies, where it brings a distinct fruity note to the blend.

 

Subnote :

| | |
| --- | --- |
| | Towser was the distillery mouse catcher who lived in the still house for nearly twenty-four years. She caught so many mice during her career she has her name in the Guinness Book of Records - World Mousing Champion. |
Danish Comment:

Reklame rip:

The Glenturret, Single Highland Malt 12-Years-Old

Glenturret er ikke alene Skotlands ældste destilleri, Glenturret er også et af de mindste.

Denne Malt vandt guld i 1987, 1990 og 1991 ved The International Wine Spirit Competition.

Samt guld i 1990, 1991 Og 1992 ved le Monde Selection Bruxelles.
---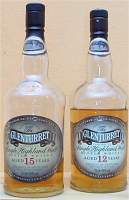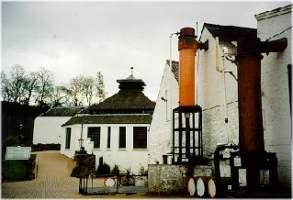 ---
GLENTURRET BOTTLINGS
---
Glenturret
18 years old
 
Age :
18 years old.
Vol :
?%
Type :
Single Malt
Price : 
?
Remark :
Notes from Glenturret:
Appearance: Mid gold with tawny lights
Aroma (Straight): Clotted cream, becoming church candles, a deep orange-in-liquor aroma.
Aroma (dilute): Sweet and creamy, with a hint of wax and more than a hint of scented soap. Light and fresh, with some citric/acidic notes.
Flavour: Smooth, gentle and softer than the 15 years old. Sweet overall, with some liquorice in the finish and a creamy/waxy mouthfeel.
---
Glenturret
21 years old
 
Age :
21 years old.
Vol :
?%
Type :
Single Malt
Price : 
?
Remark :
Notes from Glenturret :
Appearance: Full gold with amber lights
Aroma (Straight): This sample is much more phenolic than the younger ones.
Aroma (dilute): The first impression is of scorched fruit. The age of the sample is indicated by a light mustiness or dampness.
Flavour: The first impression was of cocoa powder, with some chalky notes. There is a hint of sherry in the aftertaste.
---
Glenturret
25 years old
 
Age :
25 years old.
Vol :
?%
Type :
?
Price : 
?
Remark :
Notes from Glenturret :
Appearance: Full gold with amber lights. Slightly paler than the 21YO.
Aroma (Straight): Gentle and profound, with a deep citric note.
Aroma (dilute): Surprisingly fresh for its age, with an overall nose of fruit salad.
Flavour: The flavour is a balance of sweet and dry, with some saltiness.
---
Glenturret
Liqueur
 
Age :
? years old.
Vol :
35%
Type :
Malt Liqueur.
Price : 
?
Remark :
None at present time.
---
LINKS..........
to official Glenturret or related web pages.
The GLENTURRET
Glenturret Distilllery
The Hosh, Crieff, Perthshire PH7 4HA
Phone: +44 01764-656565
Fax: +44 01764-654366