Whisky Catalog by Alternative Whisky Academy
This is a whisky catalog with information about the different types of Whisky, Whiskey and Bourbon, sorted by contry.
If you want to buy whisky please check this page to find a whisky shop -> http://www.awa.dk/whisky/wshops/index.htm
Sorry but have an estimated +5000 pages to convert and only +1000 reached ... (Working hard to update all pages).
AWA - Alternative Whisky Academy is a private, none-commercial, no-profit, none-selling whisky society. (Private owner for private usage.) 
We do NOT sell whisky or anything else.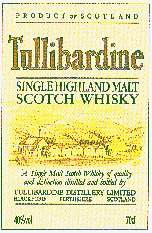 ---
Tullibardine
---
Location :
Blackord, Perthshire, Highland Region.
Region :
Highland
Country :
Scotland
Type :
Highland Southern
Distillery : 
Tullibardine Distillery
Founded :
1949
Owner :
Invergordon Distillers Ltd. since 1971, and Whyte & Mackay since 1993.
Mothballed January, 1995
Producer : 
?
Water :
Danny Burn
Remark :

Tullibardine

: Remarks and Review is under construction.

From the Whisky pilot by Uniqum Systems :
There was a previous distillery of the same name near Blackford which was established in 1798, although its exact location is not known. The new distillery was the work of Delme Evans, who also designed Jura and Glenallachie. Owned by Invergordon Distillers since 1971, and Whyte & Mackay since 1993. Rebuilt 1973-74 and enlarged from two to four stills. Mothballed January, 1995. On the site of an ancient brewery, the distillery takes its name from the nearby Tullibardine Moor, home of Gleneagles Hotel and golf courses. This area has always been famed for its water: Highland Spring and Gleneagles mineral waters are both from Blackford. Tradition has it that the fair Queen Helen of Scotland was drowned at a ford on the Allan Water (the local river), hence the name Blackford. Situated north of the new A9 on the south-western outskirts of the village of Blackford, four miles south of Auchterarder. Water supply is the Danny Burn.

-
Source www.bbr.com :


Tullibardine Distillery, Highlands


Tullibardine Distillery is situated in the village of Blackford in Perthshire (Highlands) and lies on the site of Scotland's oldest brewery dating back to the twelfth century.

During the early part of the 20th century, the brewery fell upon hard times and it was eventually sold to a a Welshman by the name of William Delme Evans in 1947, who converted it to a distillery. Delme Evans was an architect and an influential figure who also designed Jura and Glenallachie.

In 1971, Tullibardine was purchased by Invergordon Distillers. In 1994 Whyte and Mackay, who had acquired the distillery from Invergordon Distillers, decided to mothball Tullibardine distillery along with various other distilleries due to an excess of distillation capacity within their company.The distillery lay dormant from 1994 until the June of 2003 when it was bought by a group of businessmen with a passion for Scotch whisky.

Tullibardine Highlands whisky is generally recognised as an 'easy drinking' malt and an ideal pre-dinner appetiser. It is smooth and mellow on the palate with a fruity flavour and has a clean crisp finish. On nosing, Tullibardine offers a fresh, floral scent with hints of vanilla and chocolate orange. It is an ideal introductory scotch malt and is described as 'eminently quaffable'.

 
---
Tullibardine BOTTLINGS
---
Tullibardine bottling
Sorry no Tullibardine picture.
 
Age :
10 years old.
Vol :
40%
Type :
?
Price : 
?
Taste :
?
Remark :
Sorry no Tullibardine remarks at present time.
---
| | |
| --- | --- |
| LINKS.......... | to official Tullibardine or related web pages. |
| URL : | None at present time. |