Whisky Catalog by Alternative Whisky Academy
This is a whisky catalog with information about the different types of Whisky, Whiskey and Bourbon, sorted by contry.
If you want to buy whisky please check this page to find a whisky shop -> http://www.awa.dk/whisky/wshops/index.htm
Sorry but have an estimated +5000 pages to convert and only +1000 reached ... (Working hard to update all pages).
AWA - Alternative Whisky Academy is a private, none-commercial, no-profit, none-selling whisky society. (Private owner for private usage.) 
We do NOT sell whisky or anything else.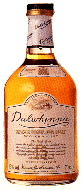 .
---
DALWHINNIE.
---
Location :
Dalwhinnie, Inverness-shire. Highland Region. Drumochter pass 356 meter over the sea.
Country :
Scotland
Type :
Highland (Central) Malt. / Single-malt.
Distillery :
Dalwhinnie, Invernessshire, PH19 1AB, Scotland
Tel: 01528 52264 or 01528 522208 (visitors centre)
Scottish Malt Distillers Ltd. (Highest distillery in Scotland.)
Founded :
1898 by Strathspey Distillery.
Age : 
15 Years Old
Vol : 
43%
Water :
Allt ant Sluic. (Should be the pure'st water in Scotland.)
Remark :
 

One of the six - Classic Malts of Scotland.(Highest distillery in Scotland.)
A 15 year old gentle, delicate malt from the wild and windswept Highlands. It is subtle, smooth delicately smody malt with a heathery honey finish

-
Source www.bbr.com :

Dalwhinnie Distillery, Highlands


The Dalwhinnie distillery, currently owned by Diageo, was founded by James Buchanan and called Strathspey when it opened in 1897. It is the highest distillery in Scotland, located midway between Perth and Inverness and situated at 326m/1073ft.

It is in a glen with the Monadhlaith Mountains on the one side, the Forest of Atholl, the Cairngorms and the Grampians to the other. Dalwhinnie is Gaelic for "meeting place" and the village stands at the junction of old cattle-droving routes from the west and north down to the markets of Crieff and Falkirk in the Central Lowlands. James Buchanan became well known for his "Buchanan" and "Black & White" blends.

Stretching a point the distillery can regard itself as being on Speyside, though it is 5 miles or more from the beginning of the dense distillery country to the north. Dalwhinnie was damaged by fire in 1934 and reopened in 1938. The distillery also serves as a meteorological observation point and every day the distillery manager treks, wades or slides across the lawn to the 'Stevenson Screen' to record the day's observations.

Only 10% of the production is marketed as single malt, the remaining being used, among others, in the Black & White blends.

 

Price : 
(in Danish kr. 70cl. : Approx 350,- dkr.)
Taste : Medium Smoked !
Palate : Medium
---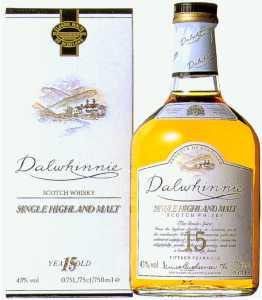 ---