Whisky Catalog by Alternative Whisky Academy
This is a whisky catalog with information about the different types of Whisky, Whiskey and Bourbon, sorted by contry.
If you want to buy whisky please check this page to find a whisky shop -> http://www.awa.dk/whisky/wshops/index.htm
Sorry but have an estimated +5000 pages to convert and only +1000 reached ... (Working hard to update all pages).
AWA - Alternative Whisky Academy is a private, none-commercial, no-profit, none-selling whisky society. (Private owner for private usage.) 
We do NOT sell whisky or anything else.

---
William Grant's
---
Location :
?
Region :
?
Country :
Scotland
Type :
Blends
Distillery : 
William Grant & Sons
Founded :
1887
Owner :
William Grant & Sons Ltd
WILLIAM GRANT & SONS Ltd (Also Distributor)
Independence House, 84 Lower Mortlake Road, Richmond, Surrey TW9 2HS, UK
Phone : +44 181-332-1188
Fax : +44 181 332-1695
Producer : 
?
Water :
?
Remark :

William Grant's :

William Grants is also the owner of the Girvan Distillery
From the Whisky pilot by Uniqum Systems :
Grant's could be find almost all over the world today, but the reason for this lies in the past, almost a century back. It was then, in 1898, that the Pattison blenders went bankrupt and therefore forced William Grant to seek new ways to sell his whisky. He sent out his sons, first Charles was sent south where he sold whisky to distributors in the south of Scotland, and England. Later on, his oldest son John was sent to Canada and the USA where he managed to establish some contacts. Next it was Charles turn again, this time he went all the way to South East Asia, Australia and New Zealand, where he pioneered whisky marketing and broke a lot of new ground.
---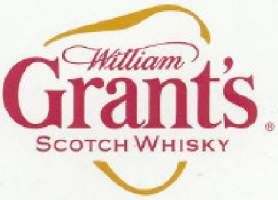 ---
William Grant's Scotch whisky
---