Whisky Catalog by Alternative Whisky Academy
This is a whisky catalog with information about the different types of Whisky, Whiskey and Bourbon, sorted by contry.
If you want to buy whisky please check this page to find a whisky shop -> http://www.awa.dk/whisky/wshops/index.htm
Sorry but have an estimated +5000 pages to convert and only +1000 reached ... (Working hard to update all pages).
AWA - Alternative Whisky Academy is a private, none-commercial, no-profit, none-selling whisky society. (Private owner for private usage.) 
We do NOT sell whisky or anything else.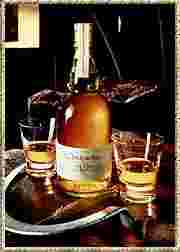 ---
GLENKINCHIE (The Edingburgh Malt).
---
Location :
Glenkinchie, Pencaitland, Tranent, East Lothian Region, EH34 5ET
Country :
Scotch / Scotland
Type : 
Lowland East
Distillery : 
Scottish Malt Distillers. The Glenkinchie Distillery.
Age : 
10 Years Old
Vol : 
43%
Water :
Unknown
Remark :

Glenkinchie

: (One of the Classic Malts of Scotland)

Glenkinchie is a soft, sweetly aromatic malt from the 'Garden of Scotland'.
Is has a fresh, grassy sweetness balanced with a warming, dryish finish.
Also bottled at Wm. Cadenhead
Danish : Tappes ogå hos Wm. Cadenhead Ltd.
Price : 
(in Danish kr. 70cl. : 395,-)
From the Label :
Glenkinchie Lowland Malt has a light delicate nose and a fresh clean aroma ; the finish is smooth, with a subtle hing of dryness. A truly fine distinective Single Malt, excellent as a pre-dinner drink.

Glenkinchie lies, as the name might suggest, in a glen of the Kinchie Burn near the village of Pencaitland, East Lothian. It is situated about 15 miles from Edinburgh. The distillery is set in farmland. The name 'Kinchie' is a corruption of 'De Quincy', the original owners of the land. Its origins date back to around 1825 when it was founded by brothers John and George Rate. The original name was Milton Distillery. The brothers probably renamed it in about 1837. In 1969 the distillery stopped malting its own grain and the malting floors were turned into a museum of malt whisky.
The Glenkinchie label was relatively little known until 1989, when United Distillers started marketing it under their Classic Malts brand.
The Whisky:
The standard 10 year old Glenkinchie has now been replaced by the standard "12 year old". This is a fairly typical lowland whisky in that it is fresh and light in character, with notes of lemon and cut grass. A sweet nose and a hint of peat make this a good introduction to the world of single malts.
The 14 year old Distiller's Edition is double-matured in Amontillado sherry casks. The sherry flavour competes slightly with the freshness but does not overpower it.
 
-
Source www.bbr.com :

Glenkinchie Distillery, Lowlands

South and East of Edinburgh lies the farming country of East Lothian. Here, at the heart of the farming community south of Tranent, since the early 18th century the barley had often been grown on land manured with local seaweed, ripened earlier and was lighter than grain grown elsewhere in Scotland - qualities that are now prized in the Lowland malts made from it.
The Glenkinchie distillery was founded between 1825 and 1833 by the brothers George and John Rate. It is now part of the Diageo group. The malt is also used in blends, among others Haig, Johnny Walker Red and Black Label, Buchanan and Dimple.
Today, with just two Lowland distilleries left in production (the other being Auchentoshan), Glenkinchie is a veritable ambassador of the elegant, floral Lowland style.