Whisky Catalog by Alternative Whisky Academy
This is a whisky catalog with information about the different types of Whisky, Whiskey and Bourbon, sorted by contry.
If you want to buy whisky please check this page to find a whisky shop -> http://www.awa.dk/whisky/wshops/index.htm
Sorry but have an estimated +5000 pages to convert and only +1000 reached ... (Working hard to update all pages).
AWA - Alternative Whisky Academy is a private, none-commercial, no-profit, none-selling whisky society. (Private owner for private usage.) 
We do NOT sell whisky or anything else.
Glen Grant
---
Location :
Rothes, Morayshire. Grampian Region.
Region :
Highland - Speyside
Country :
Scotland
Type :
Pure Malt
Distillery : 
J & J Grant - (Earlier known as Glen Grant Distilleries)
Rothes, Morayshire AB38 7BS
Phone : 01542-783300
Fax : 01542-783306
Manager : Willie Mearns

Visitor Center : (Visitors per year 21.000)
Phone : 01542-783318
Fax : 01542-783304
Mid March to end May - Monday to Saturday from 10.00 to 16.00 - Sunday from 11.30 to 16.00
June to September - Monday to Saturday 10.00 to 17.00 - Sunday from 11.30 to 17.00
October - Monday to Saturday 10.00 to 16.00 and Sundays from 11.30 to 16.00
Groups by appointment. Redeemable admission charge.
Founded :
Established : 1840
Owner :
Seagram Distilers.
Producer  : 
?
Water :
The Caperdonich well / The Glen Grant Burn.
Remark :

Glen Grant :

Glen Grant Scotch Whisky, the leading brand of Scotch whisky in Italy, moved in to new European markets, as well as into South Africa. 
The Glen Grant whisky is an important part of Chivas Regal blended whisky.

The distillery uses ex-bourbon and/or sherry casks
There there was 4 wash stills and 4 spirit stills on the Glen Grant distillery Coal fired stills.
Today (after 1977 when sold to Chivas) stills increased to 10.
The Glen Grant distillery was established in Scotland in 1840 by the two brothers John och James Grant.
Glen Grant is one of the biggest sold single malt whisky. It is very popular in Italien.
The Glen Grant Distillery is today owned by the Seagram / Chivas corp.
---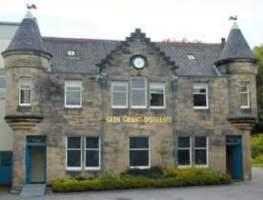 ---
-
Source www.bbr.com :
Glen Grant Distillery, Speyside

Glen Grant, founded in 1840, is widely considered to be one of the finest single malts whiskies and is one of the few named after its original owner, Major James Grant, who also built Glen Grant No2 (later renamed Caperdonich Distillery) across the road.
The distilley used to belong to the "Chivas and Glenlivet Group", property of Seagram, was bought by the Campari group in 2006.
A classic Speyside malt, Glen Grant has a range of incarnations, ranging from the well known younger versions, to the complex and stylish single vintage malts. Tastewise, it characteristically exudes nuttiness: hazelnuts when young, and almonds when aged.
A world class brand, with a particularly strong following in Italy, and an important component of the blended Whiskies of Chivas Regal.