Whisky Catalog by Alternative Whisky Academy
This is a whisky catalog with information about the different types of Whisky, Whiskey and Bourbon, sorted by contry.
If you want to buy whisky please check this page to find a whisky shop -> http://www.awa.dk/whisky/wshops/index.htm
Sorry but have an estimated +5000 pages to convert and only +1000 reached ... (Working hard to update all pages).
AWA - Alternative Whisky Academy is a private, none-commercial, no-profit, none-selling whisky society. (Private owner for private usage.) 
We do NOT sell whisky or anything else.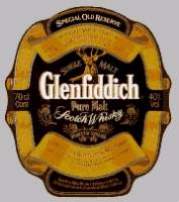 ---
GLENFIDDICH
---
Location :
Dufftown, Banffshire. Grampian Region. (Robbie Dubh)
Region :
Highland Speyside.
Country :
Scotland
Type :
Malt / Pure malt
Distillery : 

GLENFIDDICH, The
William Grant & Sons Ltd., The Glenfiddich Distillery
DUfftown, Keith, Banffshire AB55 4DH
Phone: +44 01340-820373
Fax: +44 01340-820805
Founded :
1887
Owner :
William Grant & Sons Ltd.
Producer : 
?
Water :
The Robbie Dhu springs. / Fiddich spring. Water from the river Glenfiddich is usually NOT used within the whisky but only in progress of cooling down in the worm.
Fiddich spring.
Remark :

The first still to export malt.

-
Source www.bbr.com :


Glenfiddich Distillery, Speyside


William Grant founded Glenfiddich in 1886 from second-hand equipment bought at a bargain price from nearby distillery Cardhu. It is located near the small river whose name it bears in Dufftown in the heart of Speyside. It produced its first whisky on Christmas Day 1887. The glen of the river Fiddich gives its name to the biggest-selling single malt whisky in the world. The Glenfiddich distillery is on the small river whose name it bears, in Dufftown. The name Fiddich indicates that the river runs in the valley of the deer and indeed a stag is the company's emblem. Although the distillery no longer produces its own malt, pagodas have been added to some of the newer buildings in a salute to tradition. One uniquely truly traditional element is the use of coal-fired stills - the stills are small, and the whisky is principally aged in plain oak, though about 10% goes into sherry casks. The distillery is unusual in that it has its own bottling line on the premises, with the only other malt distillery with bottling facilities being Springbank. William Grant brought his eight children into the business, and the company is still directed and managed by his descendants. Today it is the world's best-selling malt whisky,

 
---
BOTTLINGS
---
Glenfiddich
 
Age :
3 - ? years old.
Vol :
40%
Type :
Pure malt
Price : 
(in Danish kr. 70cl. : 315,-)
Remark :
( Also availible as 8Y.O = 40% - 21 and 30 Y.O = 43%)


Tested : Yes
Taste : Light
Palate : A bit sweet.

Danish Remark :
Engang solgt i DK som 12 årig, nu desværre kun 3-8 År.
(Så skal man nok over i en Glenfiddich Classic - Dyr 500,-) En meget kendt Scotch whisky, men man kan godt mærke at den mangler nogle år.... Is ?
Total Score : 4/5
Ja... måske kan vi takke Glenfiddich for at vi i andre lande har fået pure/single malt's. De så en stærk konkurrence i blended malts som de tog konkurrencen op med og var det første still som turde exporterer malt !!!
---
| | |
| --- | --- |
| LINKS.......... | to official Glenfiddich or related web pages. |
| | Glenfiddich |