Whisky Catalog by Alternative Whisky Academy
This is a whisky catalog with information about the different types of Whisky, Whiskey and Bourbon, sorted by contry.
If you want to buy whisky please check this page to find a whisky shop -> http://www.awa.dk/whisky/wshops/index.htm
Sorry but have an estimated +5000 pages to convert and only +1000 reached ... (Working hard to update all pages).
AWA - Alternative Whisky Academy is a private, none-commercial, no-profit, none-selling whisky society. (Private owner for private usage.) 
We do NOT sell whisky or anything else.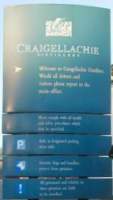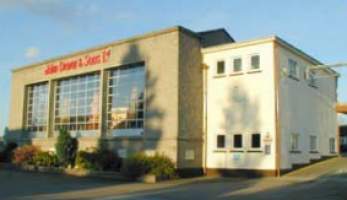 ---
CRAIGELLACHIE.
---
Location :
Craigellachie, Aberlour, Banffshire. Grampian Region.
Country :
Scotland
Type : 
Highland Speyside.
Distillery : 
Craigellachie Distillery
Craigellachie, Aberlour, Banffshire AB38 9ST, Scotland
Phone : 01340-881212 / 881228 Fax : 01340-881311
Manager : Charlie Smith
Visitors : Open all year - monday to friday - by appointment only.
Owner : 
DCL (White Horse Distillers.)
Lates info says : William Lawson Distillers Ltd.
Founded :
1890 by Mr. Peter J. Mackie and Alexander Edward (Craigellachie-Glenlivet Distillery Ltd.)
Rebuilt in 1965.
Some sources says : Founded in 1888 and established in 1891.
Water :
Little Conval hill (Where the Fiddich meets the Spey ?)
Age : 
14-26 Years Old or vintage
Vol : 
43-46% / 40
Remark :

Only used for in blends. A component of the White Horse blends.
Cask used are usual ex-bourbon
The distillery have 2 wash stills and 2 spirit stills.

-
Source www.bbr.com :

  Craigellachie Distillery, Speyside


The name Craigellachie (pronounced "Craig-ella-ki") means 'rocky hill' and refers to the cliff that overlooks the Spey. In fact, the nearby town of Craigellachie was built on this cliff in the mid 1700s. The location of the town in the heart of the Speyside, where the Fiddich meets the Spey and the district's main roads cross - between Dufftown, Aberlour and Rothes, is an excellent base-camp for those following the "whisky trail".

The town has a bridge, a cooperage, and two distilleries. The Craigellachie distillery stands to the southeast of the Spey, northwest is Macallan. It was founded in 1888 by Peter J.Mackie, nicknamed "Restless Peter", also the creator of the legendary White Horse blend and owner of the Lagavulin Distillery, in a joint venture with another important figure in the whisky world in those times: Alexander Edwards of the Benrinnes distillery.

It became part of Diageo and it was subsequently acquired by the Bacardi group. The single malt is full-flavoured, and fruity. Less than 2% of the production is released as single malt, the remaining is used in blends, particularly in Dewar's White Label. The only official version appeared in the Diageo's series "Fauna & Flora", supplemented by bottlings from independent bottlers.