Whisky Catalog by Alternative Whisky Academy
This is a whisky catalog with information about the different types of Whisky, Whiskey and Bourbon, sorted by contry.
If you want to buy whisky please check this page to find a whisky shop -> http://www.awa.dk/whisky/wshops/index.htm
Sorry but have an estimated +5000 pages to convert and only +1000 reached ... (Working hard to update all pages).
AWA - Alternative Whisky Academy is a private, none-commercial, no-profit, none-selling whisky society. (Private owner for private usage.) 
We do NOT sell whisky or anything else.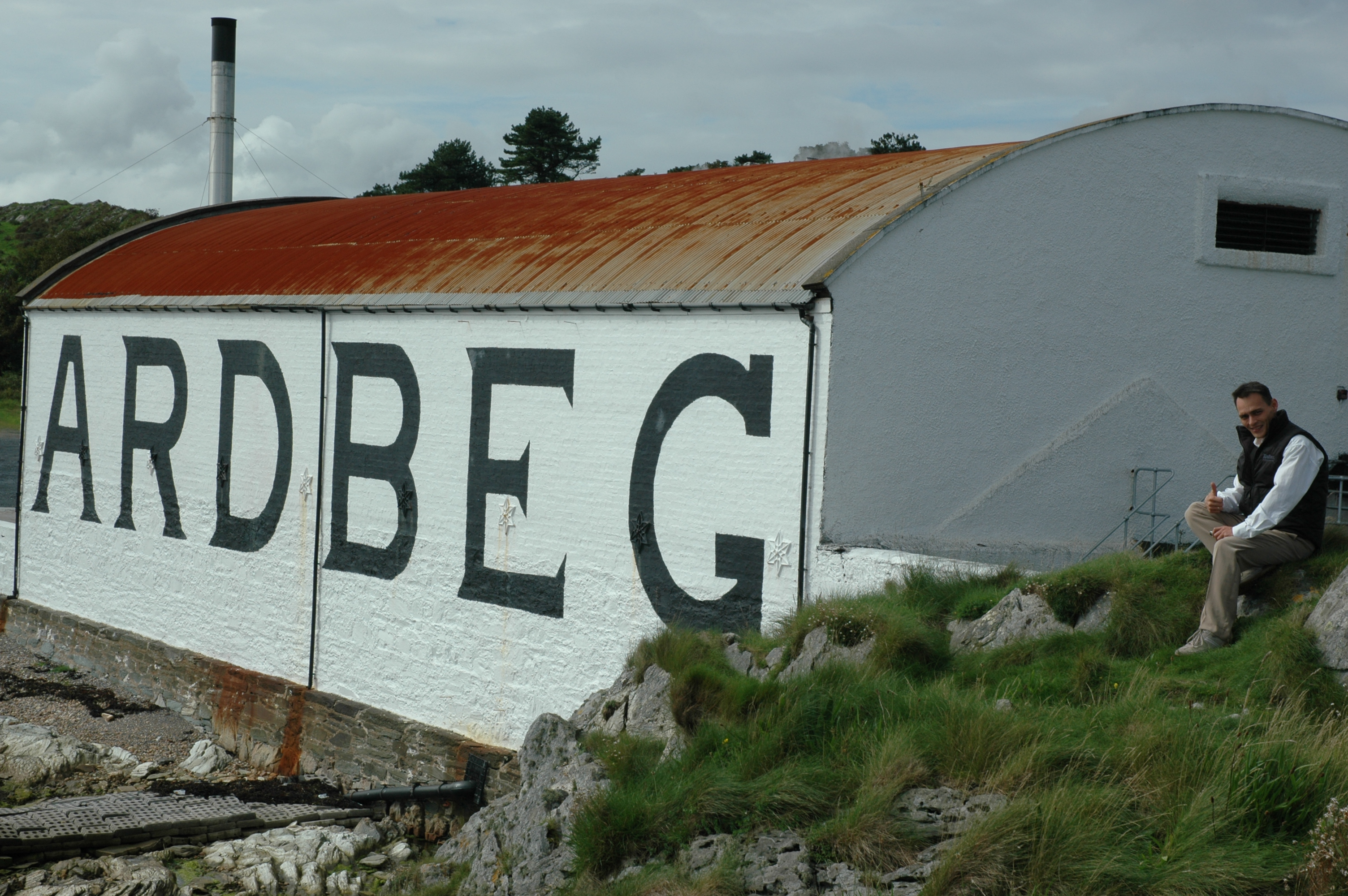 ---
ARDBEG
---
Location :
Ardbeg, Port Ellen, south-earstern shore of Islay, Strathclyde Region.
(North east of Laphroaig and Lagavulin.) Islay, Argyllshire.
Country :
Scotland
Region :
West Coast Islay
Distillery :

ARDBEG DISTILLERY
Port Ellen, Isle of Islay, Argyll PA82 7DU (Isle of Islay PA42 7EB)
Phone: +44 01496-302244 (+44 1496 302418)
Fax: 01496-302040 (+44 1496 302496)
Manager : Ian Henderson

ARDBEG DISTILLERY • VISITOR CENTRE & OLD KILN CAFE
September to May • Monday to Friday • 10:00 to 16:00 • Tours at 11:30 and 14:30
(10:30 or 15:30 if these are booked)
June to August • open daily 10:00 to 17:00 • Tours at 10:30, 11:30, 14:30 and 15:30
Old Kiln Cafe open all year • Monday to Friday • June to August • open daily
Tel: 01496 302244 • Fax: 01496 302040
e-mail: !-- var prefix = 'mailto:\'; var suffix = \'\'; var attribs = \'\'; var path = \'hr\' + \'ef\' + \'=\'; var addy13713 = \'oldkiln\' + \'@\'; addy13713 = addy13713 + \'ardbeg\' + \'.\' + \'com\'; document.write( \'\' ); document.write( addy13713 ); document.write( \'\' ); //-->This email address is being protected from spambots. You need JavaScript enabled to view it. -- document.write( \'\' ); //-->Den här e-postadressen är skyddad från spamrobotar. Du måste tillåta Javascript för att visa e-postadressen • web: www.ardbeg.com

Visitor centre is nominated to recieve an AWA.dk AWArd..

Owner :
Old owner : Hiram Walker (since the 1950s)
Producer was : Allied Distillers
Since 1996 same owner as Glenmorangie
Founded:
Approximate 1815 by the McDougall family.
The distillery may have its origins as far back as 1794, and was definitely operating by 1817.
Water :
Lake Loch Arinambeast and its own private water source - Loch Uigeadale and Uigedale.
Remark :

The distillery have 1 wash still and 1 spirit still.
They use refill casks.

Michael Jackson writes : It's the earthiness of Ardbeg, its guests of peat smoke, leafy bonfires and tar, that make it the most traditional of island whiskies.

They use local barley and peat from in production.

From the book 'The Scottish Collection' - classic malts by Carol P. Shaw:
This distillery was opened in 1815 and was one of several established near the sea in an area which was originally used by smugglers. It was bought by Hiram Walker in the 1950's primarily to use its produce in belnding; blenders use Islay malts in the way that a chef might use a strong flavour like garlic.
Nearby Lochs Uigeadale and Arinambeast supply the water which, together with local peat, produces a distinctively Islay Malt. Ardbeg is operated by Allied Distillers but they do not sell its produce officially as a single malt.

From the book : Malt Whisky - A contemporary Guide - By Mr. Graham Moore :
Following the main A846 from Laphroaig and Lagavulin the road, barely wide enough for two cars to pass, suddenly makes a sharp right turn and you find yourself at the water's edge right in the middle of Ardbeg Distillery. The road which continues another four miles to Kildalton Church seems almost an afterthought.
Ardbeg was founded by the Macdougall family in 1815, which makes it the second oldest disyillery on Islay. The area was used by a gang of smugglers whose activities were only curtailed when the Excise watchers seized a large quantity of illicit whisky, a coup which led to the break-up of the gang and the start of a ligitimate operation. The distillery was privately owned until it was taken over by Hiram Walker in 1979, but its future became uncertain when Walker's merged with Allied Vintners and it closed in 1983. It reopned in the late 1980's, although operation below capacity, was mothballed again in august 1996, and subsequently sold to the owners of Glenmorangie.
Peat plays an important part in Ardbeg's flavour and in this part of Islay it is particularly good, being free of sulphur and other undesirable minerals. Until its closure the distillery was able to make all its own malt, the last distillery on Islay to be able to do so, and the kilning was done exclusively over peat fires (most distillers only kiln for part of the time over peat). With no fans in the pagodas to draw the peat smoke upwards it would diffuse slowly through the malt, infusing its reek into the grain. The mailt had to be turned regularly during the kilning to prevent it from stewing. The water too picks up its own flavour, flowing over peat and heather on its 3-mile journey to the distillery from Loch Uigeadail.
Ardbeg has never worked to an enormous capacity. It has only six washbacks and a single pair of stills. Fermentation takes longer than normal, at about 60 hours, and only one type of yeast is used. The spirit still has purifier fitted. In its early days it could make only 600 gallons per week. By the time of its closure this figure had risen to an annual output of about 300.000 gallons, still way below that of most other Islay distilleries. Perhaps understandably, Ardbeg Single Malt has never been widely available and was at one time only sold in a couple of local hotels and to company shareholders. Most of its production went to blenders, although its pungency may have made its market a limited one, which in turn could have accounted for the distillery's temporary closure. It seemed that Ardbeg was destined to stay in the background of Allied Distillers' operations as a poor relation of its sister Laphroaig, with whom it shared many of its characteristics. Its acquisition by Glenmorangie gives it hope of a new lease of life.


Ardbeg Distillery - Visitor Center & Old Kiln Cafe:

Easter to end September
Shop open Monday to Friday 10:00 to 17:00
Tours at 10:30, 12:00 and 15:00

October to Easter
Shop open Monday to Friday 10:00 to 17:00
Tours at 10:30 and 15:00
June to August open seven days

Special tours and tastings available by appointment

Old Kiln Café
Open all year Monday to Friday 10:00 to 17:00
June to August open seven days

Current owner: Glenmorangie plc
Distillery Manager: Michael Heads
This email address is being protected from spambots. You need JavaScript enabled to view it.
www.ardbeg.com
+ 44 (0) 1496 302244
+ 44 (0) 1496 302040
Ardbeg on Google Streetview





Ardbeg History and Distillery Information

Ardbeg distillery was established in 1815 and operated as a Private Ltd. Co. until january 1977 when it was taken over by Hiram Walker (producers of Ballantine), who sadly demolished the best of the maturing warehouses, and later by Allied Distillers, who, due partly to over production but also down turn in the whisky industry 'mothballed' the distillery in 1981. Ardbeg remained silent until 1989. During those years the buildings were allowed to fall into disrepair. Ardbeg Distillery was bought and reopened in 1997 by Glenmorangie Plc, and is now one of the fastest growing Islay malts. Glenmorangie invested heavily in refurbishing the buildings and plant. To maintain Ardbeg's very distinctive character, the specification of malt used in the production of Ardbeg requires to be at a minimum level of 50 p.p.m. phenol. Glenmorangie Plc. is jointly owned by the French company, LVMH, and the British company, Diageo. At Ardbeg they currently produce 160 barrels a week. With each barrel they fill 250 bottles and so they produce a staggering 40.000 bottles of whisky each week. For that they work continuously, 24 hours a day, 6 1/2 days a week with 6 persons in the distillery and 3 in the warehouse. At the moment of writing the warehouses were completely full. Because of that the maturing takes place in other warehouses in Edinburgh. Ardbeg distillery get their Barley from Port Ellen Maltings. 60 tons of very peaty barley each week. Visitors to Ardbeg will find an added bonus, the very fine "Kiln Café" where all sorts of delights can be enjoyed, including a taste of the end product.

The Ardbeg Committee has been established in 2000 to "promote the advancement of general knowledge and enjoyment of Ardbeg". All Ardbeg-aficionados can join this Committee on Ardbeg's website. Special bottlings can sometimes be obtained by members of this committee.

Related info: Alfred Barnard's visit to Ardbeg Distillery in the 1880s

Ardbeg Distillery, Islay


The origins of Ardbeg (which in Gaelic means "small headland") Distillery date as far back as 1794. John MacDougall established the present distillery on the south coast of Islay in 1815 and it was fully operational by 1817. The MacDougall family retained ownership until 1977 when Hiram Walker gained control.

However, with the majority of its output used in blending, Ardbeg struggled to remain viable during the economic downturn of the 1970s, resulting in it being run on a care and maintenance basis from 1983. The distillery closed in July 1996 only to reopen in 1997.

Ardbeg maintains the robust and earthy aromas associated with Islay malts. Described as having a hefty bite and a rich finish, flavours detected include peat-smoke, seaweed, sawdust and iodine.

Glenmorangie Plc bought the distillery in 1997. The new owners revived the tradition of producing a very peaty single malt. All the production is sold as single malt (which is rather unusual in the world of whisky). Ardbeg whisky is not used in blends, with may be one exception: Black Bottle which claims to contain whisky of each of the active distilleries on Islay.

Bottlings
Ardbeg often bottles its whiskies at a higher alcohol level than the minimum 40% ABV. Many bottlings are also non-chillfiltered. Both measures contribute to produce a full-flavoured whisky.

Below you will finde the most important bottlings of Ardbeg:

There's a small story from our visit at the Ardbeg Distillery in our blog

http://www.awa.dk/index.php?option=com_content&task=view&id=155&Itemid=1&lang=en

Danish Remark :
En røget whisky med lang eftersmag. Måske lige i overkanten for begyndere, men har man 'lært' at værdsætte røg og malt så er Ardbeg bestemt et godt bud.
Manufacturer:
Select manufacturer
Results 1 - 10 of 44

Ardbeg

Age : 17 Years old Vol : 40% Type : Single Islay Malt - ...

Base price for variant:
kr33,835.04
Sales price with discount:
Sales price without tax:
kr33,835.04

The best Ardbeg we ever tasted.The longest aftertaste ...