SCOTLAND
Details

Parent Category: Brands and bottlings
Hits: 7448
---
CENTURY.
---
Location :
Scotland
Country :
Scotch
Type :
Blended over 100 malts. - Scotch Malt.
Distillery :
Produced by Chivas Brothers.
Founded:
Est. 1801
Age :
? Years Old
Vol :
43%
Water :
Scotland - It's a blend.
Remark :
From an add.:
One hundred of Scotland's finest single malts. Gathered from the Highlands, the Lowlands, the Valleys and the Islands, aged in oak and blended into one incomparable whisky - the Century of Malts from Chivas Brothers.
Price :
(in Danish kr. 70cl. : 350,- / Taxfree 75cl. 215,-)
Details

Parent Category: Brands and bottlings
Hits: 7399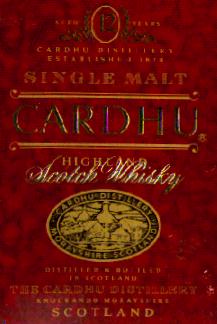 ---
CARDHU (AKA Cardow)
---
Location :
Knockando, Morayshire. Gramp Region.
Region :
Highland - Gramp Region
Country :
Scotland
Type :
Highland Speyside. Single-Malt
Distillery :
John Walker & Sons Ltd.
Producer : United Distillers.
Aberlour, Banffshire AB38, 7RY
Phone: 01340-810204
Fax: 01340-810491
Manager: Charlie Smith
Founded :
1824 by John Cummings.
Rebuilt in 1872 by Elizabeth Cumming (Her son became director of Johnny Walker.)
Owner :
United Distillers
Producer :
?
Water :
Mannoch Hill. Springs on the Mannoch Hill and the Lyne Burn.
Remark :
Used in Johnnie Walker blend together with Talisker.
They use ex-bourbon and sherry cask.
Cardhu (Kaar-doo) have 3 wash still's and 3 spirit stills.


---

Rip from another site... (Source is unf. lost)

Cardhu

NEEDS TO BE EXPERIENCED

From its origins in a small farmhouse on the windswept braes below Dallas Moor to its international acclaim as a great Highland Single Malt Whisky, the history of the Cardhu is a classic of its kind. Distilling whisky was, in Scotland's history, a small-scale family affair.

The name of the farm in its anglicised spelling was Cardow Farm, but to the gaelic speaking locals, it was Cardhu -The Black Rock.

It is a unique characteristic of Cardhu that, in a whisky world dominated by men, women have played a major part in the history of the brand.

It was under Elizabeth Cumming's direction that Cardhu grew from a tiny, local distillery to one of the leading Speyside Single Malts.

The quality of Cardhu's product attracted many would be buyers. Finally in 1893, Elizabeth sold the distillery to John Walker & Sons of Kilmarnock and her son was installed as manager of the distillery, and a board member of Walker's with a substantial shareholding. Although a few bottles of Cardhu single malt became available over the years it was a key ingredient of the firm's famous "Johnnie Walker" that Cardhu was enjoyed, unknowingly, by Scotch drinkers the world over.

The history of the distillery, its treasured arts and traditions, the pure, clean flavour of the natural Highland ingredients, the care of making and the long, slow maturing are all to be tasted in a glass of Golden Cardhu - Truly a great Highland Single Malt.


A request from Chris:
Dear sir/madam
I am researching my family history. My surname is cardow and i would like to know if you can give me any information on that family surname.
Details

Parent Category: Brands and bottlings
Hits: 9932
---
CAOL ILA (AKA Glen Isla).
---
Location :
Caol Ila, Port Askaig, Islay, Argyll. Strathclyde Region.
Region :
Islay
Country :
Scotland
Type :
Islay - malt whisky.
Distillery :

Bulloch Lade & Co.
Port Askaing, Islay, Argyll PA46 7RL
Phone: 01496-840207
Fax: 01496-840660
Manager: Mike Nicolson
Visitors : Open all year from monday to friday (by appointment only) Admission charge redeemable in shop.

CAOL ILA DISTILLERY • TOUR TIMES (by appointment only)
April to October • Monday to Thursday • 09:30, 10:45, 13:45
Shop open 09:15 to 12:30 and 13:30 to 16:00
Friday Guided tours • 09:30, 10:45 • Shop open 09:15 to 12:00
Adult admission charge including discount voucher, redeemable in the distillery shop towards a 70cl bottle of single malt whisky • Children under eight years not admitted to the production areas
Tel: 01496 302760 • Fax: 302763 e-mail: This email address is being protected from spambots. You need JavaScript enabled to view it. • web: www.malts.com

Founded :
Still built in 1846, reconstructed in 1879 and modernised in the 1970's.
Owner :
United Distillers
Producer :
?
Water :
Loch Nam Ban or Loch Torrabus - A peaty loch about a mile away sends water across fields to Caol Ila.
Remark :

Caol Ila

also known as Glen Isla : The name is pronounced "cull-eela" = "South of Islay"
The Gaelic word "caol" is more familiar as "kyle"
They use ex-bourbon and sherry cask's
The distillery have 3 wash stills and 3 spirit stills.
You will have a hard time finding Caol Ila as a standard bottling from the distillery, but you may find it from independent bottlers such as : James MacArthur & Company, Gordon & MacPhail, United Distillers, Master of Malt, Blackadder and Wm. Cadenhead.
Here's a swedish comment from a reader...:

Det här är en tämligen civiliserad Islay -- ja, en adlig smak, kanske
man kan säga. Mycket god. Den förekommer faktiskt i en roman som jag gav
ut nu i höst, Gyllene Gåsen, som utspelar sig på en krog med samma namn.
I kapitel 2 presenteras krogens dryckesmästare, och där står det så här:

"Dryckesmästaren heter Katz. Hans uppgift är att smörja maskineriet. Med
samma glädje som han bär fram ett glas utsökt Caol Ila presenterar han
en stork stark och en törstig sjåare för varandra."

Ja, det kunde ju vara intressant att veta, tänkte jag...

Skål!
---
Details

Parent Category: Brands and bottlings
Hits: 7078
---
CAPERDONICH.
---
Location :
Rothes, Morayshire. Grampion Region.
Country :
Scotland
Type :
Highland Speyside.
Distillery :
Caperdonich Distillery Ltd.
Rothes, Morayshire AB38 7BS
Phone: 01542-783300
Manager: Willie Mearns

Founded :
1897 By James Grant (Glen Grant), 1898, closed in 1902 and re-established in 1965.
Water :
Caperdonich Well.
Details

Parent Category: Brands and bottlings
Hits: 7104
Sorry no picture of Cameron Brig at present time.
---

CAMERON BRIG
---
Location :
Scotland, Fife
Region :
?
Country :
Scotland
Type :
Grain
Distillery :
Cameronbridge Distillery
Cameron Bridge, Fife, Scotland
Founded :
?
Owner :
?
Producer :
?
Water :
?
Remark :
From Collins Pocket Reference : Whisky
Cameronbridge Distillery had been operating for several years before it was acquired in 1824 by John Haig, one of the famouse family of Lowland Whisky distillers. One of its most famous directors, who subsequently became a director at the Distillers Company Limited, was Field Marshal Douglas Haig, commander in chief of the British Army on the Western Front during the First World War. Haig's company were among the founders of the Distillers Company in 1877, and United Distillers still own the distillery today. Cameronbridge produced both grain and malt whisky using a mixture of pot and patent stills until 1929 before finally concentrating on grain only.
Tasting comment : Like other grain whiskies, a lighter spirit than malt, whith a fresh taste and an element of smoothness.