---
GLENKINCHIE (The Edingburgh Malt).
---
Location :
Glenkinchie, Pencaitland, Tranent, East Lothian Region, EH34 5ET
Country :
Scotch / Scotland
Type :
Lowland East
Distillery :
Scottish Malt Distillers. The Glenkinchie Distillery.
Age :
10 Years Old
Vol :
43%
Water :
Unknown
Remark :

Glenkinchie

: (One of the Classic Malts of Scotland)

Glenkinchie is a soft, sweetly aromatic malt from the 'Garden of Scotland'.
Is has a fresh, grassy sweetness balanced with a warming, dryish finish.
Also bottled at Wm. Cadenhead
Danish : Tappes ogå hos Wm. Cadenhead Ltd.

Price :
(in Danish kr. 70cl. : 395,-)
From the Label :
Glenkinchie Lowland Malt has a light delicate nose and a fresh clean aroma ; the finish is smooth, with a subtle hing of dryness. A truly fine distinective Single Malt, excellent as a pre-dinner drink.

Testet :
Yes (If Yes, comments below.)
Remark :
Medium. God til Kaffe med kage. Behagelig. God begynder Whisky. Du kan ikke hade eller elske den. En Whisky du kan servere for gæster uden at blive upopulær.
(Men dine gæster bliver heller ikke venner for livet. :-)
Dette er en "rigtig" dame whisky... (He...he... selv min moder kan lide denne...)
Total Score :
7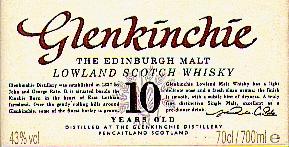 Personal taste:
CP
GI
HT
FS
FR
Average.
Remark...
Package/Info
04
Booooring.
Bottle
05
Standard Whisky bottle.
Label
05
Skal man da heldigvis ikke drikke. :-)
Prop ? Metal/Kork/ Wood.
06
Standard
Color
06
Medium (Coloured with caramel)
Smell
05
Medium
Taste
05
Medium, let røget, malt, lidt tør. Ikke rigtig til at placere. Lidt af det hele uden særlige karaktaristika.
Aftertaste
05
Medium
Price/Quality
05
Der er vist andre alternativer med mere "sjæl" til en billigere penge.
(Men kan da anbefales som en novice begynder whisky.)

---
---
AWA - Alternative Whisky Academy is a private, none-commercial, no-profit, none-selling whisky society.
| | | |
| --- | --- | --- |
| Site made by | | |