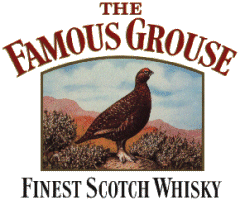 ---
---
Location :
Perth
Region :
Midlands
Country :
Scotland
Type :
Blended
Distillery :
Matthew Gloag & Sons Ltd. Perth, Scotland.
Founded :
Established somewhere around 1800
Owner :
Matthew Gloag & Sons Ltd. Perth, Scotland.
Producer :
Matthew Gloag & Sons Ltd. Perth, Scotland.
Water :
?
Remark :
The biggest selling whisky within Scotland.
The defenite article and the Victorian flourish is usually dispensed with by devotees who prefer simply to ordre 'Grouse'
It was for a time a 'cult' blend in Scotland.

From Happyhours.com newsletter :
Famous Grouse Gold Reserve Gets New Look
New York, NY -- Scotland's #1 selling Scotch has refashioned its Gold Reserve 12 Year-Old in new feathers. The elegant design of the new bottle, label, and gift box reinforce the brand's super-premium image and emphasizes its place in The Famous Grouse family, while the exceptional spirit within remains unchanged.

The new bottle is gently curved, reminiscent of 19th century Scotch whisky bottles, with the year '1800' embossed on the shoulder to symbolize The Famous Grouse's two centuries of heritage and excellence. The new high-gloss label depicts the brand's signature bird, allowing for quick brand recognition, while gold foil print underscores the brand's upscale positioning. The bottle comes in a sophisticated gift carton with embossed gold foil lettering.

"The new packaging establishes a consistent look for The Famous Grouse family, allowing consumers to easily recognize the brand," Assistant Brand Manager CÚcile Mirman tells HappyHours.com. "With double digit growth of the core Famous Grouse brand in the past few years, our goal is to increase awareness amongst our loyal consumer base, letting them know that Gold Reserve is the super-premium selection in the family. With its high quality single malt content, Gold Reserve is a very smooth and well-balanced Scotch which even surprises single malt aficionados."

The Famous Grouse is handcrafted from a blend of Scotland's most distinctive malts - including The Macallan and Highland Park - from the country's greatest single malt producing areas. Gold Reserve is aged for a minimum of twelve years in hand-selected oak casks to a superbly silky, rich blend. For more information visit their website at:
www.famousgrouse.com/

---
BOTTLINGS
---
The Famous Grouse
Finest Scotch
Age :
? years old.
Vol :
40%
Price :
Danish kr. 70 cls. below 200,-
Danish remark :

Den mest efterspurgte Scotch Whisky i Skotland. Blendet af kun de fineste kvaliteter Maltwhisky og Grainwhisky. Efterlagret på egefade i minimum seks måneder. Hvert destillat gennemgår over 6000 kvalitetsprøver. Den skotske rype (Lagopus, Lagopus Scoticus) er Skotlands national fugl. Rypen er samtidig det stolte symbol på en enestående Whisky - The Famous Grouse, Finest Scotch.
---
The Famous Grouse Gold Reserve
12 -Years Old
Age :
12 years old.
Vol :
43%
Price :
?
Danish remark :
The Famous Grouse Gold Reserve er et 12-års blende. Dette betyder, at hvert eneste element i blendet d.v.s. Grainwhiskies og Maltwhiskies er mindst 12 år. Men ligesom for The Famous Grouse Finest gælder det, at maltkvaliteterne er langt ældre end normen, d.v.s. 12-års, 18-års, 25-års etc. Disse Maltwhiskies kommer fra firma Matthew Gloags egne destillerier; The Macallan, Highland Park, Bunnahabhain, Glenturret og Tamdhu. Dette garanterer sikkerhed for levering på lang sigt og sikkerhed for kvaliteten.
Produktet gennemgår efter blend den unikke efterlagring, som vi også kender fra The Famous Grouse Finest. Det vil sige, at når Grain og Maltwhiskies er blendet hældes produktet tilbage på egefade, hvor det efterlagrer op til 12 måneder.
---
The Famous Grouse
Vintage 1987
Age :
Vintage 1987
Vol :
40%
Price :
?
Danish remark :
---
LINKS..........
to official Famous Grouse or related web pages.
Famous Grouse
Matthew Gloag & Sons Ltd. Perth, Scotland.
A nice site !
---
---
AWA - Alternative Whisky Academy is a private, none-commercial, no-profit, none-selling whisky society.