USA - United States of America
BOURBON AND WHISKEY FROM USA
Details

Parent Category: Brands and bottlings
Category: USA - United States of America
Hits: 11329
Four Roses (Once call'ed Old Joe's.)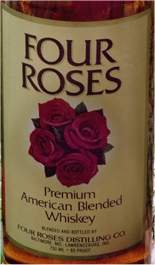 ---
Four Roses (Once call'ed Old Joe's.)
---
Location :
Lawrenceburg, Kentucky, USA.
Region :
Kentucky
Country :
USA
Type :
?
Distillery :
Four Roses Distillery
USA, Kentucky
1224 Bonds Mill Road, Lawrenceburg, Kentucky
Phone: +1 502 839 3436

or
Four Roses Distillery
1224 Bonds Mill Road,
Lawrenceburg, Kentucky, U.S.A.
Tel: +1-502-839-3436
Fax: +1-502-839-8338

Founded :
Established in 1810
Founded 1818 by Joseph Peyton
Owner :
Kirin Brewery Co. Ltd. (Earlier Seagram Distillers plc.)
Producer :
?
Water :
?
Remark :

Four Roses (Once call'ed Old Joe's.) :

The Original name of Four Roses distillery was Old Joe Distillery.
The still closed in 1917, to be reopened in 1933 as Old Prentice Distillery
Braeval has a certain Spanishness to it which one sees to a greater degree in tis sister distillery in Kentucky, Four Roses.

From : http://www.visitlex.com/quick/bourbon.html
Blue Note: A fourth Bluegrass distillery, The Four Roses Distilling Company near Lawrenceburg, gives tours to individuals and small groups by appointment only. The tour gives a "roll-up-your-sleeves" look at the fermentation and distillation processes. (The bourbon is sent to another location for barrelling and aging). Exclusively exported for over 40 years, Four Roses Kentucky Straight Bourbon Whiskey is now for sale in Kentucky. The distillery is located in an unusual California Spanish Mission-style building constructed around 1910. Call All Young or Jeanette Pfalzer at (502) 839-3436 to schedule a tour. The distillery stops production in the summer.
Details

Parent Category: Brands and bottlings
Category: USA - United States of America
Hits: 13850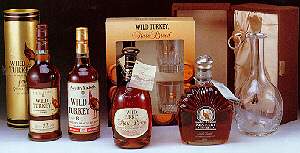 ---
WILD TURKEY
---
Location :
USA, Kentucky, Lawrenceburg, Twelve miles south of the state capital Frankfot, close to the Kentucky River.
Region :
Kentucky
Country :
America
Type :
Rye / Straith Rye / Kentucky Straight Bourbon Whiskey.
Distillery :
Wild Turkey / Austin, Nichols Distilling Company.
1525 Tyrone Rd, Lawrenceburg, KY 40342
Founded :
1950's (Austin Nichols was founded in 1855)
Owner :
It all started with the firm Austion Nicols, they were owned for a time by Pernod, and then by Heublein, itself subsequently taken over by the British group Grand Metropolitan.
Producer :
Austin Nichols Distilling Company / Wild Turkey Distillery
1525 Tyrone Rd, Lawrenceburg, KY 40342
Water :
?
Remark :

Please visit the official website ..se link in bottom of this page.