SCOTLAND
Details

Parent Category: Brands and bottlings
Category: SCOTLAND
Hits: 16953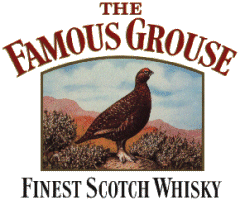 ---
---
Location :
Perth
Region :
Midlands
Country :
Scotland
Type :
Blended
Distillery :
Matthew Gloag & Sons Ltd. Perth, Scotland.
Founded :
Established somewhere around 1800
Owner :
Matthew Gloag & Sons Ltd. Perth, Scotland.
Producer :
Matthew Gloag & Sons Ltd. Perth, Scotland.
Water :
?
Remark :
The biggest selling whisky within Scotland.
The defenite article and the Victorian flourish is usually dispensed with by devotees who prefer simply to ordre 'Grouse'
It was for a time a 'cult' blend in Scotland.

From Happyhours.com newsletter :
Famous Grouse Gold Reserve Gets New Look
New York, NY -- Scotland's #1 selling Scotch has refashioned its Gold Reserve 12 Year-Old in new feathers. The elegant design of the new bottle, label, and gift box reinforce the brand's super-premium image and emphasizes its place in The Famous Grouse family, while the exceptional spirit within remains unchanged.

The new bottle is gently curved, reminiscent of 19th century Scotch whisky bottles, with the year '1800' embossed on the shoulder to symbolize The Famous Grouse's two centuries of heritage and excellence. The new high-gloss label depicts the brand's signature bird, allowing for quick brand recognition, while gold foil print underscores the brand's upscale positioning. The bottle comes in a sophisticated gift carton with embossed gold foil lettering.

"The new packaging establishes a consistent look for The Famous Grouse family, allowing consumers to easily recognize the brand," Assistant Brand Manager Cécile Mirman tells HappyHours.com. "With double digit growth of the core Famous Grouse brand in the past few years, our goal is to increase awareness amongst our loyal consumer base, letting them know that Gold Reserve is the super-premium selection in the family. With its high quality single malt content, Gold Reserve is a very smooth and well-balanced Scotch which even surprises single malt aficionados."

The Famous Grouse is handcrafted from a blend of Scotland's most distinctive malts - including The Macallan and Highland Park - from the country's greatest single malt producing areas. Gold Reserve is aged for a minimum of twelve years in hand-selected oak casks to a superbly silky, rich blend. For more information visit their website at:
www.famousgrouse.com/
Details

Parent Category: Brands and bottlings
Category: SCOTLAND
Hits: 14220
---
EDRADOUR, The.
---
Location :
Pitlochry, Perthshire. Tayside Region.
Country :
Scotland.
Type :
Highland Southern - Single Malt.
Distillery :
Campell & Sons Ltd. (Under Pernod Richard)
Glenforres-Glenlivet Distillery Co. Ltd.
Edradour Distillery,
Pitlochry, Perthshire PH16 5JP,
Scotland.
Phone : 01786-473524
Fax : 01786-472002
Manager : John Reid

Visitor centre :
Phone : 01796-472095
Fax : 01796-472002
Open from March to October , Monday to Saturday from 9.30 to 17.00 (5pm) and Sunday from 12.00 to 17.00
November to February, Monday to Saturday from 10.00 to 16.00 - but only the shop.
Groups over 14 by appointment only. (Approx 100.000 visitors per year.)
Owner :
Campbell Distillers Ltd.
Founded :
Est. 1825 by farmers. (?-1933 John McIntosh.)
Water :
Originate from deep on Moulin Moor bubbles through peat and granite before surfacing. (Atholl) - A spring on Ben Vrackie.
Remark :

Edradour :

Edradour is The smallest still in Scotland.
They use Ex-bourbon casks. There is one wash still and one spirit still.
The Edradour can be enjoyed as the defining whisky in a 12 years old vatted malt called Glenforres. It is also an important component of two blends, the eight year old House of Lords and the 12 years old King's Randsom.

Edradour is the smallest distillery in Scotland, the workforce consists of no more than three men. The name Edradour is derived from the Gaelic Edred dobhar, between two waters. Campbell Distillers bottling.

From the Whisky pilot by Uniqum Systems :
The distillery was started by a group of local farmers as a co-operative. The distillery has gone through several interesting changes of ownership but it is now owned by Campbell Distillers, a subsidiary of the French company Pernod Ricard.
It is the last remaining of the once numerous Perthshire "farm" distilleries and the last actually distilling by hand.
The work at Edradour is made pretty much in the same way that it was done when the distillery was founded. The Edradour has a staff of just three(3) people but it's enough as it is Scotland's smallest distillery. Edradour's output is only 600 gallons (3,600 bottles) per week. The annual output from Edradour equals the amount that a modern distillery can produce in a week.
Edradour takes it water from a stream on Ben Vrackie called Edradour burn, derived from the Gaelic 'Edred dobhar' meaning 'between two waters'.
With the exception of the installing of electricity in 1947 the only thing that has changed since the start is that today, barley is no longer dried and malted by peat fire on the premises, but brought from a maltster in Pencaitland near Edinburgh.
The distillery has an excellent visitor centre and is situated at the roadside at the foot of a steep hill; a collection of ancient farmstead-like buildings, past which tumbles a fast-flowing burn. An idyllic setting.