Whisky Catalog by Alternative Whisky Academy
This is a whisky catalog with information about the different types of Whisky, Whiskey and Bourbon, sorted by contry.
If you want to buy whisky please check this page to find a whisky shop -> http://www.awa.dk/whisky/wshops/index.htm
Sorry but have an estimated +5000 pages to convert and only +1000 reached ... (Working hard to update all pages).
AWA - Alternative Whisky Academy is a private, none-commercial, no-profit, none-selling whisky society. (Private owner for private usage.) 
We do NOT sell whisky or anything else.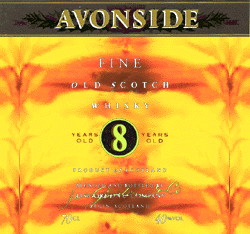 ---
Avonside
---
Location :
?
Region :
?
Country :
Scotland
Type :
Blended.
Distillery : 
?
Founded :
?
Owner :
?
Producer :
Gordon & Macphail.
George House
Boroughbriggs Road
Elgin IV30 1JY
Phone: 01343 545111 - Fax : 01343 540155
Water :
? (The River Avon ???)
Remark :
The River Avon has its source deep in the Cairngorm Mountains, rushes past Tomintoul and Glenlivet distilleries, and joins the Spey close to Cragganmore distillery.
The Junction Pool, where the two rivers mingle, is one of the Spey's most famous stretches. Avonside is a generous blend of grain and malt whiskies over 8 years old, with a classic Speyside Aroma.
---
BOTTLINGS
---
Avonside
 
Age :
8 years old.
Vol :
40%
Type :
Blended
Price : 
14.70 £ at Loch Fyne Whiskies.
Remark :
None at present time.
---
| | |
| --- | --- |
| LINKS.......... | to official Avonside or related web pages. |
| | Gordon & MacPhail. |