Whisky Catalog by Alternative Whisky Academy
This is a whisky catalog with information about the different types of Whisky, Whiskey and Bourbon, sorted by contry.
If you want to buy whisky please check this page to find a whisky shop -> http://www.awa.dk/whisky/wshops/index.htm
Sorry but have an estimated +5000 pages to convert and only +1000 reached ... (Working hard to update all pages).
AWA - Alternative Whisky Academy is a private, none-commercial, no-profit, none-selling whisky society. (Private owner for private usage.) 
We do NOT sell whisky or anything else.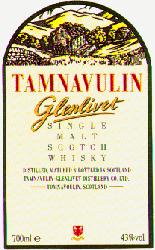 ---
TAMNAVULIN-GLENLIVET.
---
| | |
| --- | --- |
| Location : | At the river Livet neer the Mountain Cairngorm. Ballindalloch, Banffshire. Grampian Region. |
| Country : | Scotch |
| Type :  | Highland Speyside |
| Distillery :  | Invergordon Distillers Ltd. |
-
Source www.bbr.com :
Tamnavulin Distillery, Speyside

The Tamnavulin Distillery dates back from 1966, when it was founded as part of the Invergordon Distillers group. It was subsequently acquired by White and Mackay, and eventually mothballed in 1995.
Located in Ballindalloch, Banffshire, it is the only distillery to be situated on the river Livet. In Gaelic dialect, a 'tom' is a small  hill and 'mhoulin' (just like the French 'moulin') means a mill, so Tamnavulin is 'the hill with the mill'.
The style is fast-maturing, delicate, aromatic, with a herbal edge. A great aperitif single malt whisky.