Whisky Catalog by Alternative Whisky Academy
This is a whisky catalog with information about the different types of Whisky, Whiskey and Bourbon, sorted by contry.
If you want to buy whisky please check this page to find a whisky shop -> http://www.awa.dk/whisky/wshops/index.htm
Sorry but have an estimated +5000 pages to convert and only +1000 reached ... (Working hard to update all pages).
AWA - Alternative Whisky Academy is a private, none-commercial, no-profit, none-selling whisky society. (Private owner for private usage.) 
We do NOT sell whisky or anything else.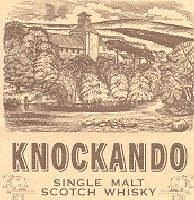 ---
KNOCKANDO
---
Location :
Knockando, Morayshire. Grampian Region. - South of the B9102 between Knockando and Archiestown.
Region :
Highland Speyside / North East Scotland
Country :
Scotland
Type :
Pure Single Malt - Scotch Highland Speyside.
Distillery : 
Knockando Distillery
Knockando, Aberlour Morayshire AB38 7RD (AB38 7RT)
Phone +44 01340-810205
Fax : +44 01340-810369
Founded :
1898
Owner :
International Distillers & Vintners.
Producer : 
Distilled and bottled in scotland by Justerini & Brooks. 
St. James's Street, London S.W.t
Water :
Cardnach Spring / Knockando.
Remark :

Knockando

: Knockando Distillery Built by the Knockando-Glenlivet Distillery Co. Owned by J. Thomson & Co. from 1900-3. Subsequently acquired by W & A Gilbey in 1904. Now it is managed by Justerini & Brooks, a subsidiary of IDV.
Much of the make is used in the J & B blend.
An individual feature of the malt is that its bottle states both its year of distillation and date of bottling.
If you believe that whisky, like wine, has vintage years, then Knockando is worthy of close study.

Knockando is "cnoc an dhu" in Gaelic which means "little black hill".

Located south of the B9102 between Knockando and Archiestown, situated on the banks of the River Spey. Water is taken from the Cardnach Spring.

Product of Scotland.
---
-
Source www.bbr.com :

Knockando Distillery, Speyside

Knockando can trace its history back to 1898 when it was established by an Elgin spirit broker, J Thompson. In Gaelic, Knockando (Cnoc-an-dhu) means "little black hillock" and the distillery sits on a tree-covered hill that overlooks a sweeping panorama of the Spey river.
Knockando differs form other malt producers in its long-standing practice/philosophy of bottling the casks only when they are deemed to be at their peak maturation, as opposed to bottling them automatically at certain ages. The whisky is marketed as single malt under its season of distillation; the year of bottling is also indicated on the label. The notion being that the whisky is bottled when it is mature, rather than at a specific age. The use of sherry casks is deliberately kept to a minimum in order to preserve the delicate flavour of Knockando