Whisky Catalog by Alternative Whisky Academy
This is a whisky catalog with information about the different types of Whisky, Whiskey and Bourbon, sorted by contry.
If you want to buy whisky please check this page to find a whisky shop -> http://www.awa.dk/whisky/wshops/index.htm
Sorry but have an estimated +5000 pages to convert and only +1000 reached ... (Working hard to update all pages).
AWA - Alternative Whisky Academy is a private, none-commercial, no-profit, none-selling whisky society. (Private owner for private usage.) 
We do NOT sell whisky or anything else.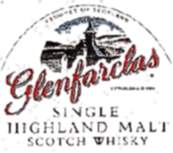 ---
GLENFARCLAS
---
Location : 
Highland, Marypark, Ballinalloch, Banffshire. Grampian Region.
Region :
Highland
Country :
Scotland
Type :
Highland Single Malt.
Distillery : 
Glenfarclas Distillery, Maryland, Ballindalloch, Banffshire.
Visitors are welcome :
From June to September - Monday to Friday from 09.00 )09.00am) to 16.30 (04.30pm)
From October to May - Monday to friday from 10.00 (10.00am) to 16.00 (04.00pm)
or by appointment. Large parties should telephone in advance.
Phone : 01807-500209
Founded :
1836
Owner :
J & G Grant Ltd. - George Scott & John P. Grant
Producer :
J & G Grant Ltd. - George Scott & John P. Grant
Water :
?
Remark :
Glenfarclas is one of the few independently owned distilleries left in the Highlands. Founded in 1836, it was bought in 1865 by J. & G. Grant and is still the in the family hands.
Glenfarclas bottles a wide range of malts of varying ages and strengths. The distillery is set in an in an isolated spot by Ben Rinnes yet it attracts in excess of 60.000 visitors every year to its well- maintained visitor facilities.

Glenfarclas is in Guinness Book of Records for the strongest malt whisky available in a distillery's official bottling.
-
Source www.bbr.com :

 Glenfarclas Distillery, Speyside

Glenfarclas can trace its history back to 1836, when tenant farmer Robert Hay founded the distillery on the Rechlerich Farm, on the Ballindalloch Estate in Banffshire. In 1865 John Grant bought the distillery for the princely some of £511.19s.0d, when he signed the tanancy agreement for the farm. The distillery is still in the Grant family and the present John Grant is the 5th generation of the family to run the property.
Glenfarclas is a classic Speyside with notes of sweet fruit and spice and a touch of peet in the older bottlings.